Bio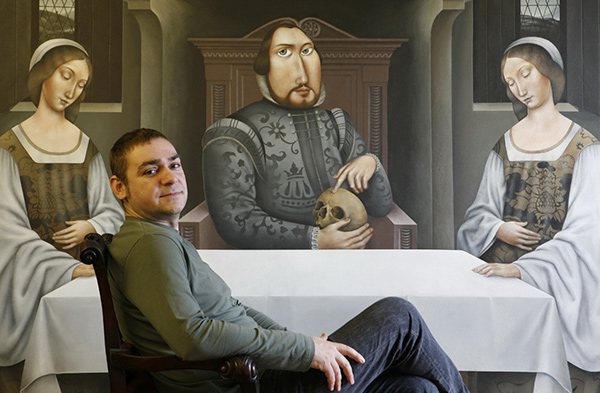 At the time of his birth in 1974, Slavko Krunić, a painter to be, set his eyes on Belgrade. At a fateful moment, he decided to study Painting at the Belgrade Faculty of Fine Arts, where he got his Master's degree. In 2000, he became a member of Association of Serbian Artists. He has exhibited his paintings at numerous group and over thirty individual exhibitions in the country and abroad. The paintings of Slavko Krunic have found their way to the public and private collections of art collectors throughout the world. His illustrations have also found their place in a great number of books and magazines. He published his own book "Satiricons" in 2010, with French writer Elodie Pinel. The cooperation with the weekly magazine Politikin Zabavnik represents the crown of a long-dreamt dream of Slavko Krunić. Together with the writer Mirjana Ognjanović, he published two books, ''Mausoleum'' (Altanova) and ''Insomnia for two'' (Booka). 
He illustrated characters for the opera Werhter of the National Theatre in Belgrade.
His works can be seen on a vinyl cover of New York ska legends The Toasters ''House of soul'' album, Rotterdam ska jazz foundation band CD album, Deepsteady band CD album and a cover for Dr.Deadlock and conga line band vinyl and CD album. 
Lives and works in Belgrade and Novi Sad.
Painting and illustration prizes:
2016. Major purchase prize Ex Tempore, Piran, Slovenija
2015. Purchase prize Ex Tempore, Piran, Slovenija
2014.  Merit award, Palm art award, Leipzig, Germany
2014. Award for the best book illustration of the 20th International Book Fair, Novi Sad, Serbia
2013. Grand Prix at the 13th International Biennal Milena Pavlović Barilli Foundation, Serbia
Important publications:
Lexikon der Phantastichen Kunstler (IFAA - International Fantastic Artist Archiv - G.Habarta),
Dreamscapes V (Imaginary editions),
Dreamscapes VI (Imaginary editions),
Imaginaire III (Fantasmus),
50 masters of realistic imagery (Art domain whois publisher),
Visionary art yearbook (Otto Rapp),
Society for art of imagination (Phantasten museum Vien),
Masters of contemporary fine art (Art galaxie),
Masters of painting (Art galaxie).
His painting was included in the anthology of Serbian painting, in the monograph edition of Anthology of Serbian Painting of the Second Half of the 20th Century and the beginning of the 21st Century (Paris Circle)